Panettone is a traditional Italian sweet bread that is made with a soft, fluffy dough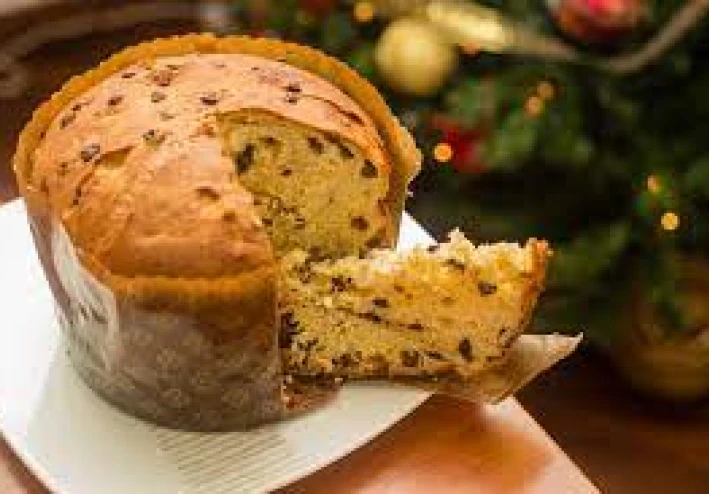 Panettone is a traditional Italian sweet bread that is made with a soft, fluffy dough
Panettone is a traditional Italian sweet bread that is made with a soft, fluffy dough and is often studded with raisins and candied fruit. It is typically enjoyed during the holiday season, but it can be enjoyed at any time of year. Panettone is a popular dessert in Italy, and it is often served as a festive treat during Christmas and other special occasions.
To make panettone, you will need the following ingredients:
1 cup milk
1/2 cup unsalted butter, softened
1/2 cup sugar
2 tsp active dry yeast
4 cups all-purpose flour
1 tsp salt
3 eggs, beaten
1 cup raisins
1/2 cup candied orange peel
1/2 cup candied citron peel
1 egg, beaten (for the egg wash)
To prepare panettone, follow these steps:
In a small saucepan, heat the milk over medium heat until it is warm to the touch (about 110°F). Remove the milk from the heat and add the butter, stirring until it has melted.
In a large mixing bowl, combine the warm milk mixture, sugar, and yeast. Stir until the yeast has dissolved. Let the mixture sit for about 10 minutes, or until it becomes foamy.
Add the flour and salt to the bowl, and mix until the dough comes together. Knead the dough on a floured surface until it is smooth and elastic, about 10 minutes.
Place the dough in a greased bowl, cover it with a towel, and let it rise in a warm place until it has doubled in size, about 1-2 hours.
Preheat the oven to 350°F (180°C). Punch down the dough and knead in the raisins, candied orange peel, and candied citron peel.
Shape the dough into a round loaf and place it in a greased panettone mold or a 9-inch round cake pan. Brush the top of the dough with the beaten egg.
Bake the panettone in the preheated oven for about 45-50 minutes, or until it is golden brown and sounds hollow when tapped.
Let the panettone cool in the pan for a few minutes, then transfer it to a wire rack to cool completely. Serve the panettone at room temperature, or slice and toast it for a warm, buttery treat.
I hope this information is helpful! If you have any other questions about panettone or need further assistance, please don't hesitate to ask.